현재 위치
M-AUDIO Q40 + SONY P..
M-AUDIO Q40 + SONY P..
DETAIL
---
Studiophile Q40
Closed-Back Dynamic Headphones




Whether you뭨e tracking, mixing or listening, you can expect sonic accuracy from your Studiophile Q40 headphones뾡esigned by M-Audio, leading provider of reference monitor technology. With professional-grade dynamic drivers and ear cups that completely surround the ears, the Q40 headphones deliver full-range specs with excellent isolation from outside noise. Lightweight construction and comfortable earpads make them ideal for long studio sessions or hours of listening. These sturdy phones are collapsible for easy travel and even include a detachable/replaceable 3-meter cable to protect your investment. Whether you뭨e making music or just enjoying it, the Studiophile Q40 headphones let you get the most out of the experience.


Comfort and Convenience


The Studiophile Q40s are designed to go the distance with you뾣rom traveling the globe to marathon studio sessions. A collapsible design means they뭠l easily fit in your carry-on luggage. The included storage bag protects them from dust and damage. The convenient removable and replaceable cord extends the life of your investment. And the large, padded ear cups completely surround your ears, ensuring a comfortable fit hour after hour.



Superior Drivers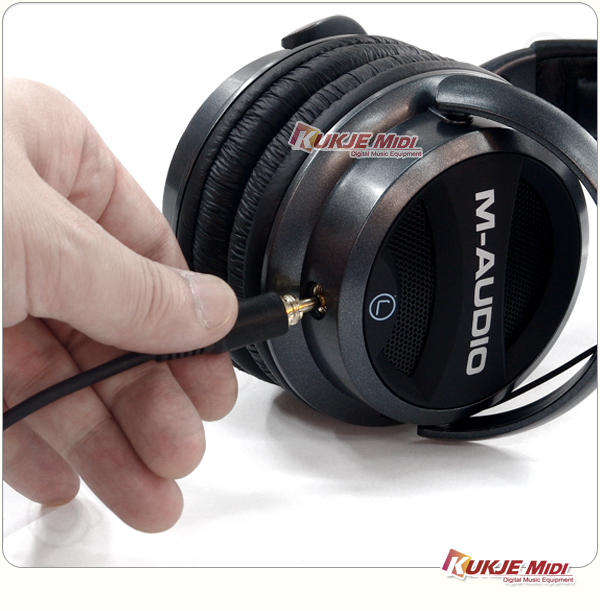 Full frequency response owes much to the size and construction of a speaker뭩 driver. The Studiophile Q40 headphones feature extra-large 40mm-diameter drivers뾟igger than most other headphones뾣or extended low frequencies. Bass response is also enhanced by efficient components like neodymium magnets, copper-clad aluminum voice coils and vented diaphragms made of low-mass treated mylar. These elements come together in M-Audio뭩 custom enclosure, which has been specially tuned to further maximize low-frequency extension.
Closed-back, Circum-aural Design


With sealed backings and comfortable ear cups that completely surround the ears, the Studiophile Q40 headphones deliver excellent sonic isolation for accurate monitoring. You뭠l hear more detail at lower volumes, so you can protect your hearing while tracking, mixing or listening in any noisy environment. In addition, the Q40 headphones afford privacy when working in a shared space.




Full Frequency Response
Headphones deliver a level of sound quality matched only by speakers costing a great deal more뾢specially when it comes to low frequencies. With the Studiophile Q40 headphones, you뭠l feel like you뭨e listening to a full-sized set of reference monitors in a professional studio environment. The Q40s provide excellent imaging and a wide sound stage for accurate mixing뾵ithout the hassle of worrying about speaker placement or room acoustics.

- 40mm drivers provide exceptional frequency response
- closed-back circum-aural design delivers excellent isolation
- lightweight construction with comfortable earpads
- detachable, replaceable 3-meter cable with 1/8?connectors
- copper-clad aluminum voice coil wire for optimum efficiency
- includes 1/4?to-1/8?adapter
- collapsible design for easy travel


---
배송 방법
SEEKOMALL의 배송은 전문택배업체인 로젠택배가 담당하고 있으며, 상품에 따라서는 배송업체가 일시적으로 바뀔 수 있습니다.
배송 기간
배송기간은 영업일 기준으로 3일~5일 발송일 기준으로 2일~3일정도가 소요되며, 산간이나 도서지역의 경우
기간이 다소 길어질 수 있습니다.
배송비
SEEKOMALL 에서 구매하신 상품에 대해서는 5만원 이상 구매시 무료 배송을 원칙으로 하며,
5만원 미만의 경우 착불(구매자 부담)로 발송됩니다. 일부 도서지역의 경우에는 별도의 배송료가 추가될 수도 있습니다.
배송조회/ 배송상태 확인
구체적인 배송 현황을 확인하고 싶으신 경우에는 국제미디 청음샵(대표전화 : 02-745-9654)로
문의하시기 바랍니다.